Despite all the hype around cryptocurrency, there still doesn't seem to be much that you can actually do with it.  
The original Bitcoin whitepaper — the world's introduction to cryptocurrencies — imagined that one day, Bitcoin would be used for payments. It's literally the first sentence of the abstract on the first page.
In reality, paying for things with Bitcoin is... not a good idea. Remember the guy who paid 10,000 Bitcoins for two pizzas from Papa Johns?
Bitcoin is viewed an investment asset, not an actual currency.
So a bunch of alternate cryptocurrencies (also called cryptos or altcoins) have sprung up, each hoping to find their own unique place in the new crypto economy. Of course, there's the cryptos you've heard about like Ethereum, Litecoin, and Dogecoin, and then there's a whole litany of others.
But there's only one that I actually use every day.
I actually use Basic Attention Token
The first and only cryptocurrency I've found that has real, actual, practical reasons to use it, right now: Basic Attention Token.
I interact with BAT every single day.
That's because Basic Attention Token is integrated into Brave, a privacy-focused alternative to Google Chrome that's become my new default web browser on both my Mac and my iPhone.
If you aren't familiar with Brave yet — it's a web browser like Google Chrome or Safari. In fact, Brave is based on the same browser engine as Chrome, so everything works exactly the same, but with one critical difference: all the Google stuff is ripped out and replaced with privacy friendly alternatives.
Brave has a built-in ad blocker that works so well the browser can load pages up to 3x faster than Chrome. As it turns out, digital advertising has become so bloated that downloading the advertising on a website can cost more data than viewing the actual content you're there for.
Now that it's finally possible to set custom default web browser on iOS devices, using Brave on iPhone becomes incredibly compelling as a free alternative to Safari and Chrome, thanks to its awesome built-in ad blocker even on mobile.
But this is about more than just blocking ads. It's about reimagining the $330 billion digital ad industry.
Brave browser is already what's good — Basic Attention Token is what's next.
Pro-tip: if you want to jump ahead to read one section, click on the links below to skip right there.
Click on the numbers in the headings as you read to jump back here.
This article covers three reasons why BAT is what's next:
Users get rewarded for seeing (certain) ads in Brave browser
Creators and publishers get tips and recurring contributions from fans
Advertisers get effective returns without sacrificing user privacy
After that, I'll discuss some areas where Basic Attention Token and Brave can improve, and then we'll go over how to Get Started with BAT.
Let's get into it.
---
1. Get rewarded for your attention with BAT
You get paid BAT whenever you see Brave ads. Seriously — Brave pays you actual cryptocurrency in exchange for your attention.
Last month I saw something like 112 Brave ads and got paid just over 4.29 BAT from Brave rewards. As of this writing, that's $5.79 just from surfing the internet.
It's not much, but the fact I've gotten anything at all!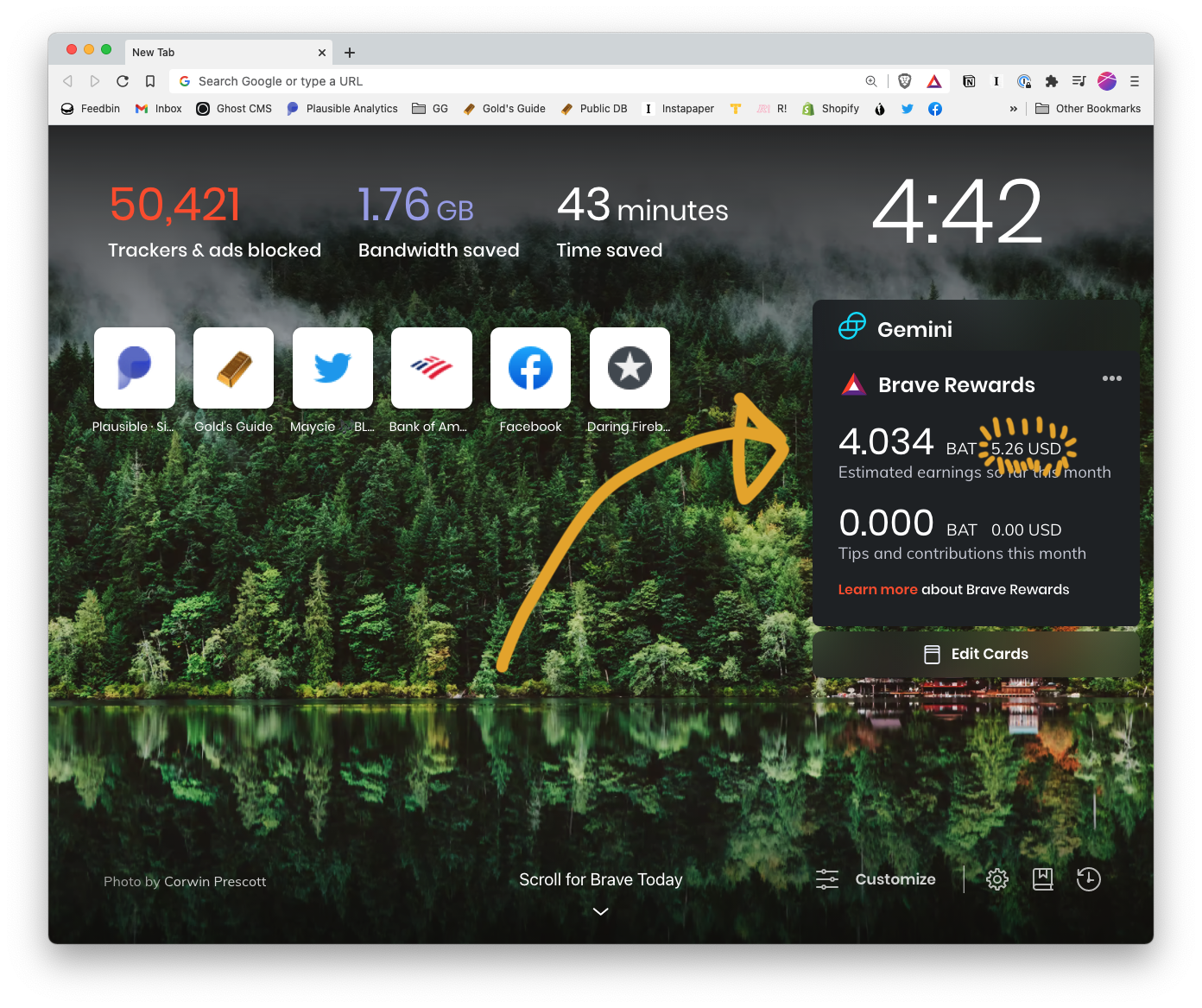 The idea that I can get paid for just... doing the things I normally do, like opening new tabs in my web browser, is so compelling to me. I do this hundreds of times a week anyway. Why not get paid for it?
Here's how Basic Attention Token works.
Block the bloat
Brave browser blocks almost all the bloated advertising you'd otherwise encounter across the web, including YouTube ads and advertisements you'd find stitched inside articles while reading sites like The New York Times or HuffPost.
Acceptable ads like the ones on Daring Fireball don't seem to be affected, but I did notice that Brave blocked ads served from the Carbon network on Kottke.org, which are ads I personally wouldn't mind seeing.
Brave's aggressive ad blocker could prove troublesome for the businesses which make their money from digital advertising marketplaces, but there are already hundreds of millions of people using ad blockers for a good reason!
Basic Attention Token is built on the premise that the digital ad industry is inherently broken.
In the Basic Attention Token whitepaper, kind of like a declaration of independence or magna carta for a cryptocurrency, there's this wild chart comparing the cost to load advertising content vs. editorial content for popular websites.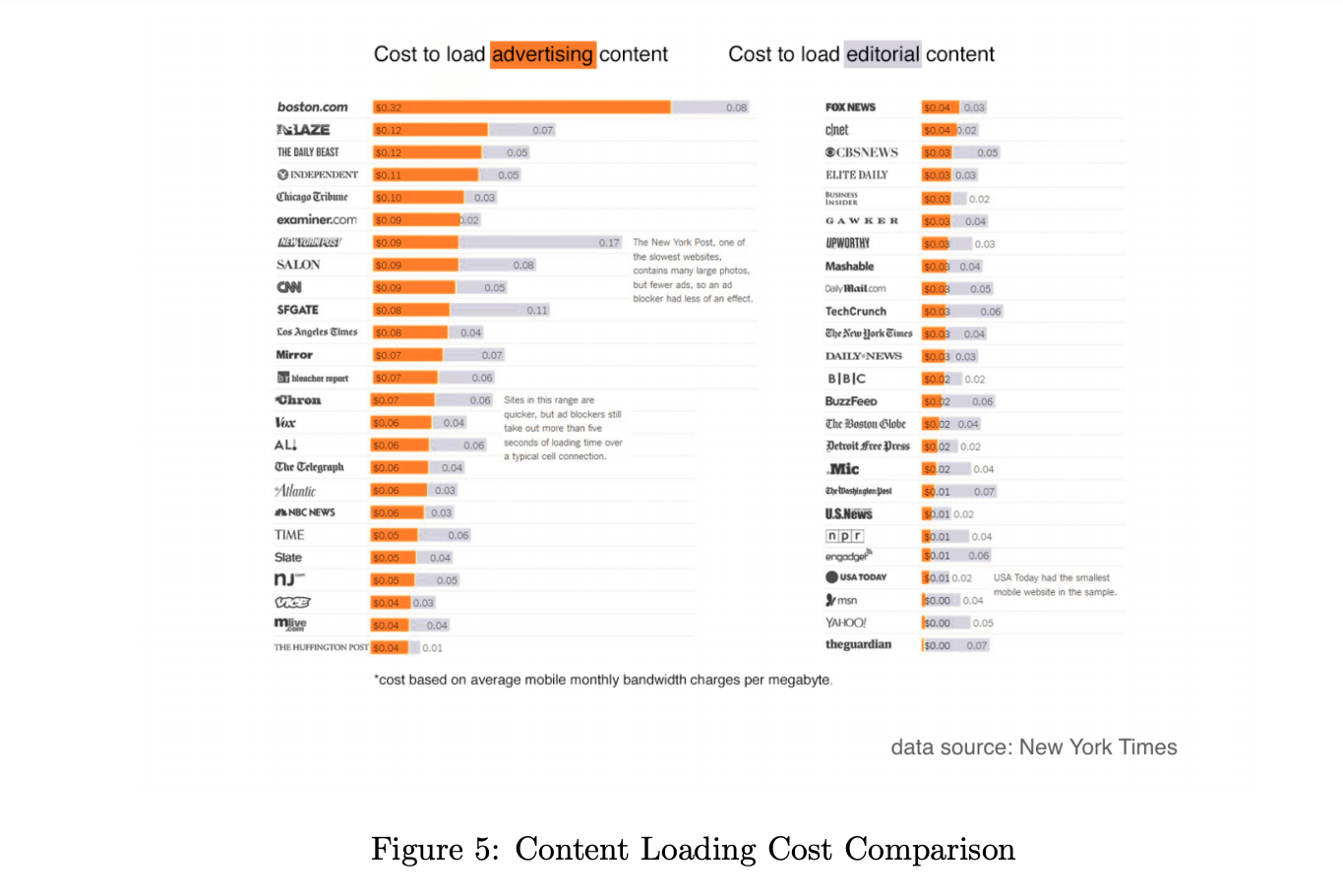 For more than half of these publications, it costs as much or more mobile data to load the advertising as it does to load the content!
Instead of all that, Brave has just two kinds of advertisements that both reward you with BAT:
Ads in new tab windows
Push notifications
Here's some examples of what they look like.

Brave provides all the right options for deciding how many or how few ads you'd like to see. Push notifications can be turned on or off, and you can even choose how frequently you see them.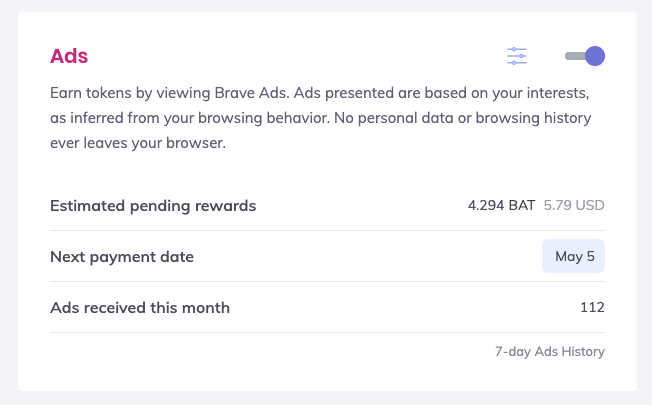 This is all done using some kind of local machine learning that I won't pretend to understand, but which I interpret as being computed offline — meaning it's on your computer instead of in the cloud, which is more safe and secure. Brendan Eich, the CEO of Brave and creator of BAT, explains it on the Lex Friedman podcast.
The bottom line is that I actually want to click on these ads, because I literally get rewarded for doing so. Brave takes 30% of the ad revenue from advertisements: the other 70% is distributed to users like you and me.
The most-utilized crypto token?
When I wrote about why Brave browser is what's good, I mentioned how the privacy-focused web browser is also the platform for what might be the most-utilized cryptocurrency yet:
Brave says there are already over 4.3M people making BAT transactions each month, and there are 1M verified publishers accepting BAT tips.
That was in January 2021, when there were 24.1 million monthly active users of Brave browser — which according to some quick math means that about 17.8% of people who use Brave make monthly BAT transactions.
Brave just announced they reached 30 million monthly active users, and 10.6 million daily active users, as of April 2021.
If the rate of Brave users who also use BAT is still around 17%, that means that as of April 2021, there are more than 5 million people making BAT transactions each month.
Those 5 million people seem ready and willing to click on ads, especially if those ads are relevant to their interests. At least I am.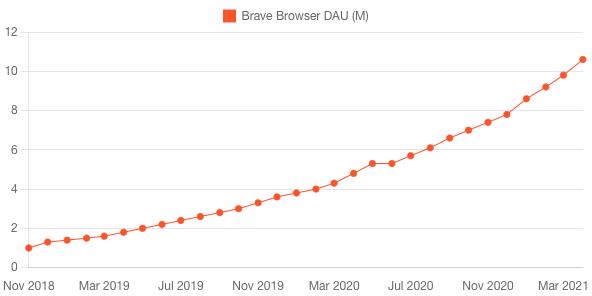 But Brave is still an underdog compared to Chrome, which boasted 2 billion active installs (with a B) all the way back in 2016.
The AdBlock Chrome extension has more than 10,000,000 users in the Chrome web store. That's just one browser extension! There are half a billion people using ad blockers on mobile phones. Now that Apple lets you customize your own default web browser on iOS, Brave becomes even more viable as a web browser with built-in ad blocking on mobile.
There's still lots of room for Brave to grow — and who does growth better than creators?
---
2. Creators and publishers get tips and monthly contributions from fans
Audiences can send BAT directly to publishers and creators on a bunch of different platforms, including Twitter, Reddit, YouTube, Twitch, Github, Vimeo, and websites like Gold's Guide.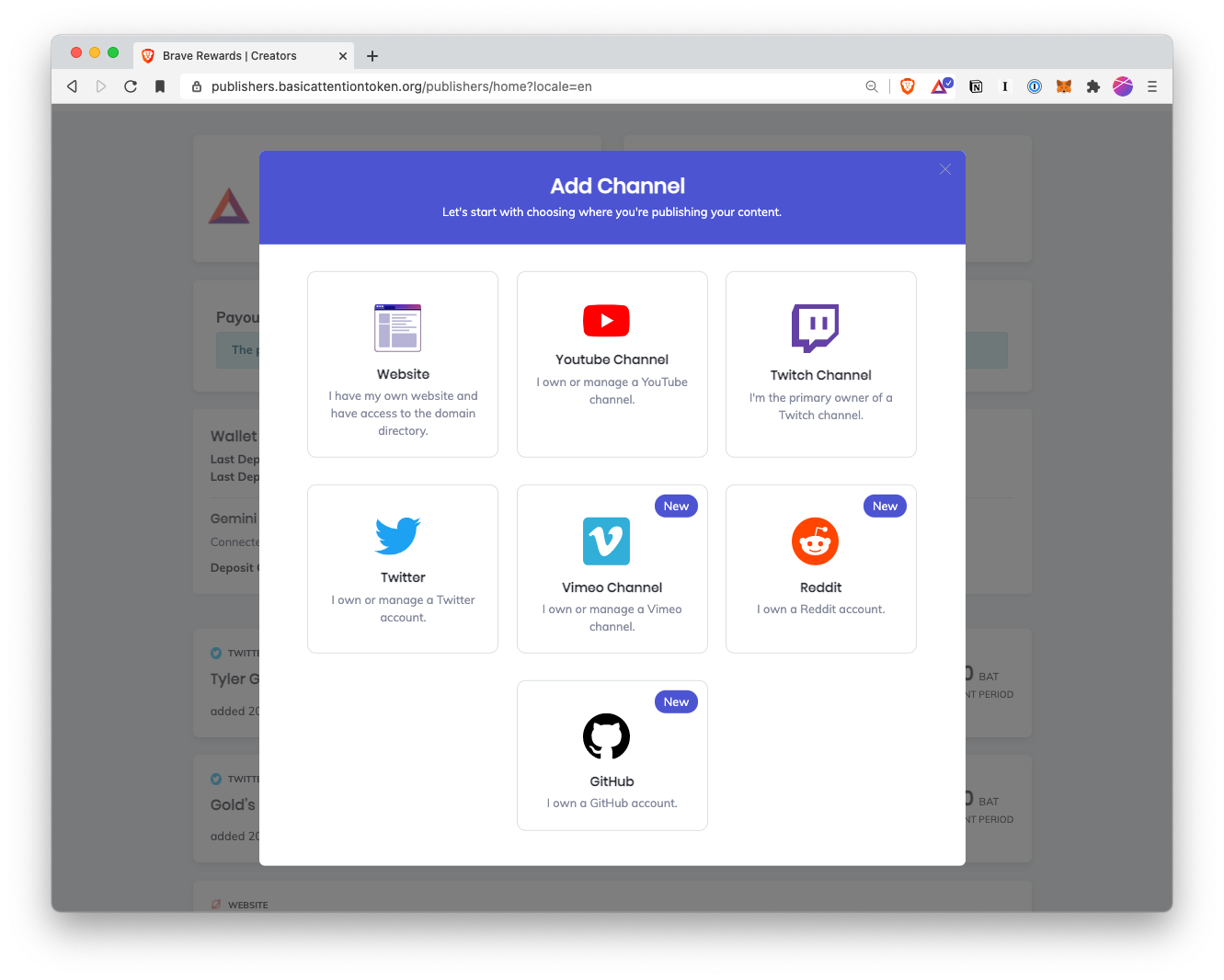 Signing up for the Brave Publisher program is simple; adding BAT to your website is as easy as adding a TXT record to your website's domain provider or adding a file to your website's top-level folder. Setting up social channels is even easier; just log-in with your credentials.
In the interview with Lex Friedman I mentioned earlier, BAT inventor Brendan Eich noted that creators are centralized around platforms like YouTube and Patreon, just like how publishes are centralized around platforms like Google and Facebook for advertising.
There isn't really an easy way to collect, aggregate, or even track anything across all these platforms. If a creator views each of their platforms as a "line of business", then it would be a serious issue if you weren't able to make connections between the different parts of your business. This is why new tools and services for creators like Stir and my friends at Bullish Studio are making waves in the burgeoning creator economy — they provide a bridge to connect all these disparate parts.
BAT has its own vision for solving this problem, and it's existed for years before the words "creator economy" became well-known. Users can enable automatic contributions to the publishers they spend the most time with.
As they browse the internet, users see ads and get BAT as a reward.
Users can choose to allocate a certain amount of BAT each month.
Brave automatically donates that monthly BAT allocation to creators and publishers based on how much time and attention users spend with them.
Brave automatically records the amount of time you spent with each website and then sends them a portion of the BAT you chose to auto-contribute. This all happens locally, right on your phone or laptop — so your data isn't tracked in the cloud. And it works across all the biggest platforms.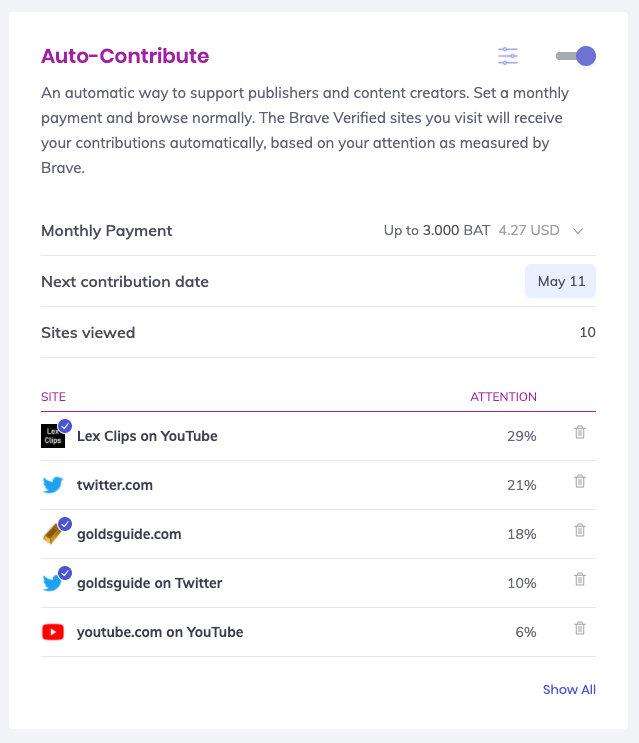 You can also make one-off donations or tips to your favorite creators by tapping a button in the top of the URL bar.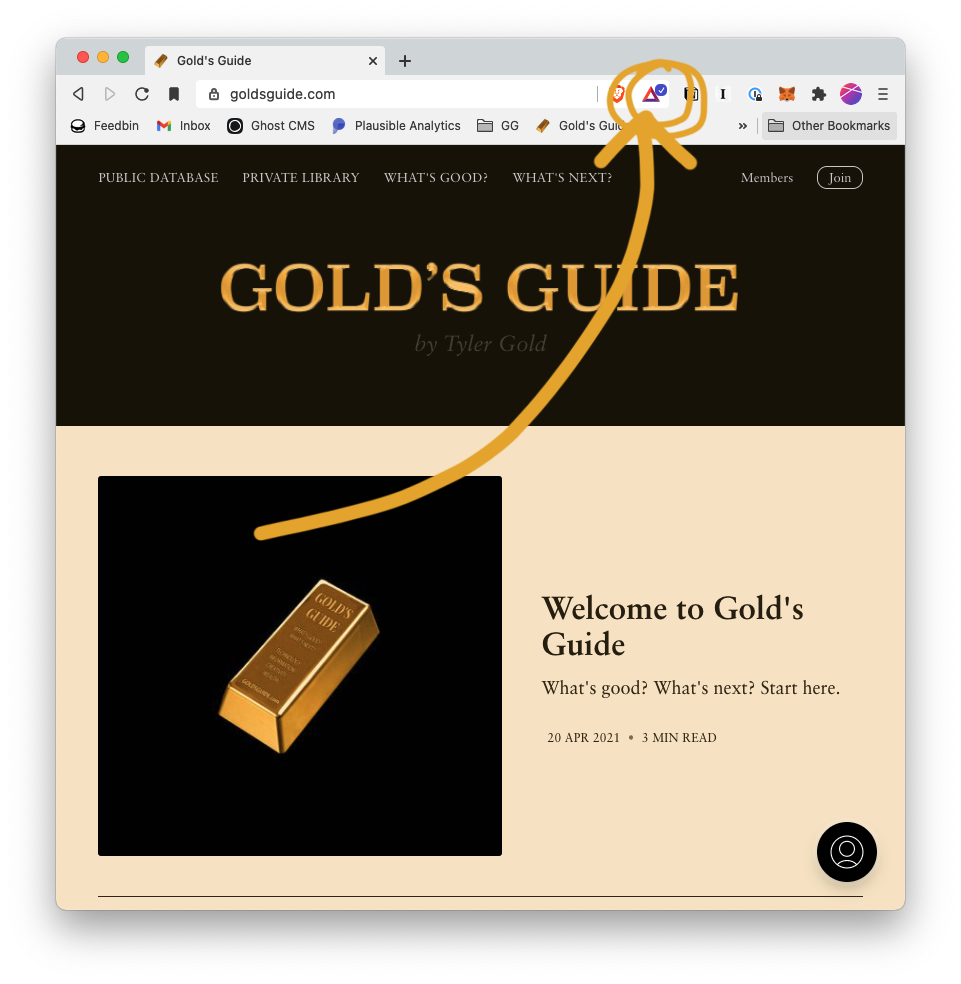 The biggest question I have about Basic Attention Token is about how much of it those 5 million people using BAT are actually contributing to creators each month.
Are most of these people just taking the BAT and cashing out?  The fact that this is a decentralized system can be both a strength and a weakness here.
I've yet to receive any BAT tips, so I can't speak to how that process works. But I'm intrigued, at least in theory. There seem to be plenty of Redditors making and accepting donations. The question is if this contribution or tipping model will actually be viable for creators or publishers.
Even in theory, I have some reservations about how reliable this system can be for publishers! Services like Scroll (which was recently acquired by Twitter), does something similar to Brave and BAT (block ads, give publishers a portion of the membership fees based off time spent) but with a more focused model where all of the readers are paying members. A major benefit of this kind of focus is that publishers have a better expectation around consistency — with BAT, users could turn auto-contribute off and take away a revenue stream. I'm reminded of Blendle, a startup that tried a micropayments for media model back in 2016 that didn't exactly work out. But now that Scroll has access to Twitter's vast social network, it might prove to be a more compelling business model for creators and publishers.
One major benefit to BAT compared to its competition is that it doesn't just provide utility for readers, creators and publishers — it also benefits advertisers. And advertisers have a lot of money.
---
3. Advertisers get effective returns without violating user privacy
Privacy has become a huge topic of discussion in the last few years.
Facebook and Google's ad tracking technologies have become so accurate that they can seemingly predict what you talk about, before you talk about it. This is great for advertisers: they can target the exact customers they want to reach. But it's not good for people.
The writing on the wall
Netflix has created an entire documentary niche about the dark side of social media advertising with films like The Social Dilemma, The American Meme, and The Great Hack.
Ad blocker usage has more than doubled on mobile devices over the last five years as people seek privacy and avoid malware.
People are increasingly going out of their way to find privacy. Because traditional ads are blocked in Brave, BAT can focus on a different advertising model.
There's no tracking, no selling of data, no third-party cookies or IDFAs or pixels — just connections between businesses and consumers.
Privacy-first advertising
The case studies from the Brave ads website tell some interesting stories. Bullets below the data points are my thoughts.
Using Brave ads, BlockFi was able to reduce acquisition costs by 75% and earn 2x the revenue per user compared to advertising with Google.
Accounts funded twice as much as people referred by Google — this is an active and dedicated audience of crypto-enthusiasts.
Upland was able to convert 10.5% of 1,000 quality installs into paying customers, compared to 8.37% across other campaigns.
That's a 22.6% increase in number of quality installs compared to other crypto ad campaigns.
Personal note: I made an Upland account after seeing one of these ads. Upland is actually pretty cool — there are digital NFT galleries!
Nexo drove a 15.8% click-through rate (CTR) on 500,000 clicks — which is insane, at least in my experience.
Click-through rate means that 15.8% of the people who saw the ad clicked on it —  15.8% of the people "clicked-through" the advertisement.
For context: some of the most popular YouTube videos (millions of views within a week) I've published have barely a reached 12% CTR. It's not a perfect comparison but... 15.8% CTR... for an advertisement! Wild.
People actually want to click on Brave ads — because they get paid for clicking! The digital advertising market is worth something like $330 billion dollars — a whole lot of value, ripe for disruption.
Brave and BAT are creating a new alternative to the traditional digital advertising economy, promising to protect privacy while simultaneously valuing viewer attention and providing advertisers with relevant information. That's what's next.
---
What's next for BAT (and Brave)
"User attention is valuable, but it hasn't been properly priced with an efficient and transparent market system."
— the BAT whitepaper
Basic Attention Token is available on most crypto-exchanges, but the process of actually getting BAT out of Brave rewards isn't perfect yet.
As this process improves, I think BAT could create a fascinating new economy for advertising. So I'm excited to have been in it while it's just getting started. 10 million daily active users is cool, but...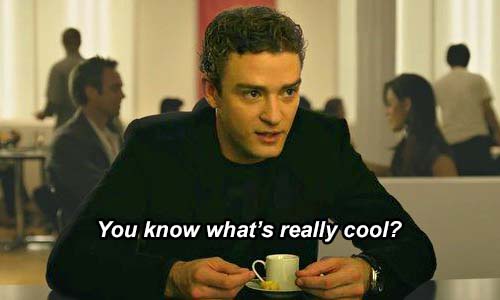 Brave browser recently announced plans to integrate support for Gemini crypto-wallets, in addition to Uphold, the only wallet that's compatible with Brave right now. The subreddit for BAT is full of people talking about how they don't like Uphold, so I'm very interested to see how much easier it will be when Gemini is integrated. One can imagine that when this happens people will start using Brave and BAT in droves.
I have an Uphold wallet, but if I'm being honest, my plan has been to invest as much Basic Attention Token as possible now and then, when the new wallets like Gemini get added, transfer it over there in one fell swoop so that the transaction fees aren't as high.
On the bright side, publisher / creator accounts already have the option to deposit BAT into Gemini.
Up and to the right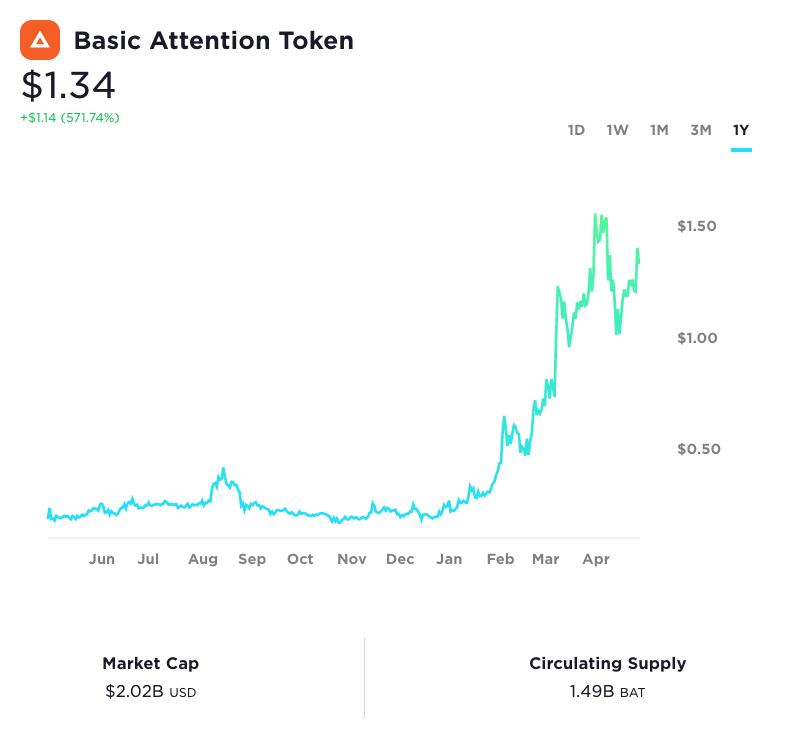 The price of Basic Attention Token has been on a big run in 2021, increasing more than 570% in the last year. But as the price goes up, payouts from seeing ads seems to decrease. The value of the token is increasing, but is the price of running ads on Brave increasing at a similar rate?
Imagining an attention-based savings plan
If you have a Gemini account, you can already buy BAT. You can also passively earn interest on it with Gemini's new Earn feature.
This got me thinking about a process where I get BAT from Brave for seeing ads on the internet, which gets deposited into Gemini Earn for savings, which gets a 3.5% APY interest in some kind of future-meets-present attention-based savings plan. Or I could just drop it into my regular Gemini wallet at the end of the month for coffee money.
Look, I'm not expecting to make a ton of money with this, but if I can contribute to creators and publishers I enjoy and have a privacy-friendly browsing experience... why not collect some cryptocurrency along the way? There are tons of possibilities.
I've invested in Basic Attention Token because as Brave continues to grow, I see the potential for this to significantly disrupt the traditional ad industry. Google made a bunch of money by vertically integrating their systems — it stands to be seen if BAT will become adopted or not, but at the end of the day, I'm far more compelled by Brave and Basic Attention Token than I am for any advertising service offered by Google.
It's not difficult to get involved with BAT — in fact, it's easy enough that you can do it right now. Here's how.
How to get started earning BAT for viewing Brave ads
Download Brave (worth it just for the speed and privacy — BAT is a bonus)
Connect to Uphold (most annoying part, on the BAT 2.0 roadmap)
Use the internet like normal
See ads in Brave, click on them if they're interesting
Earn small amounts of crypto over time
Optionally donate or auto-contribute BAT to creators and publishers you enjoy
Cash USD out of Uphold, or transfer BAT to another exchange
Literally profit
You can also trade and invest in BAT on popular crypto-exchanges including Gemini and Coinbase.
---
Please note that Gold's Guide is for informational purposes only; nothing mentioned in this article should be considered investment advice, or advice of any other sort. I'm not a financial advisor, lawyer, or therapist, I just love tech, innovation, and learning. I own some BAT, but I'm not being paid or reimbursed for this article.