Brave is what's good.
Brave is a privacy-first internet browser that works exactly the same as Google Chrome does, but has all the Google parts ripped out and replaced with privacy friendly options — including the best ad-blocking you can get on your iPhone.
If you care about digital privacy, you'll love Brave.
For real: if you use Google Chrome, you should finish reading this article, click the download link at the bottom, install Brave, import your data from Chrome, and make Brave your new default web browser. Here's why.
New default
iOS finally has an option to choose your own default browser: in other words, your iPhone can (finally) automatically open links somewhere besides Safari.
This is a huge factor in what makes Brave so exciting now, instead of a year or two ago when it first showed up on the scene. Defaults matter.
Privacy champion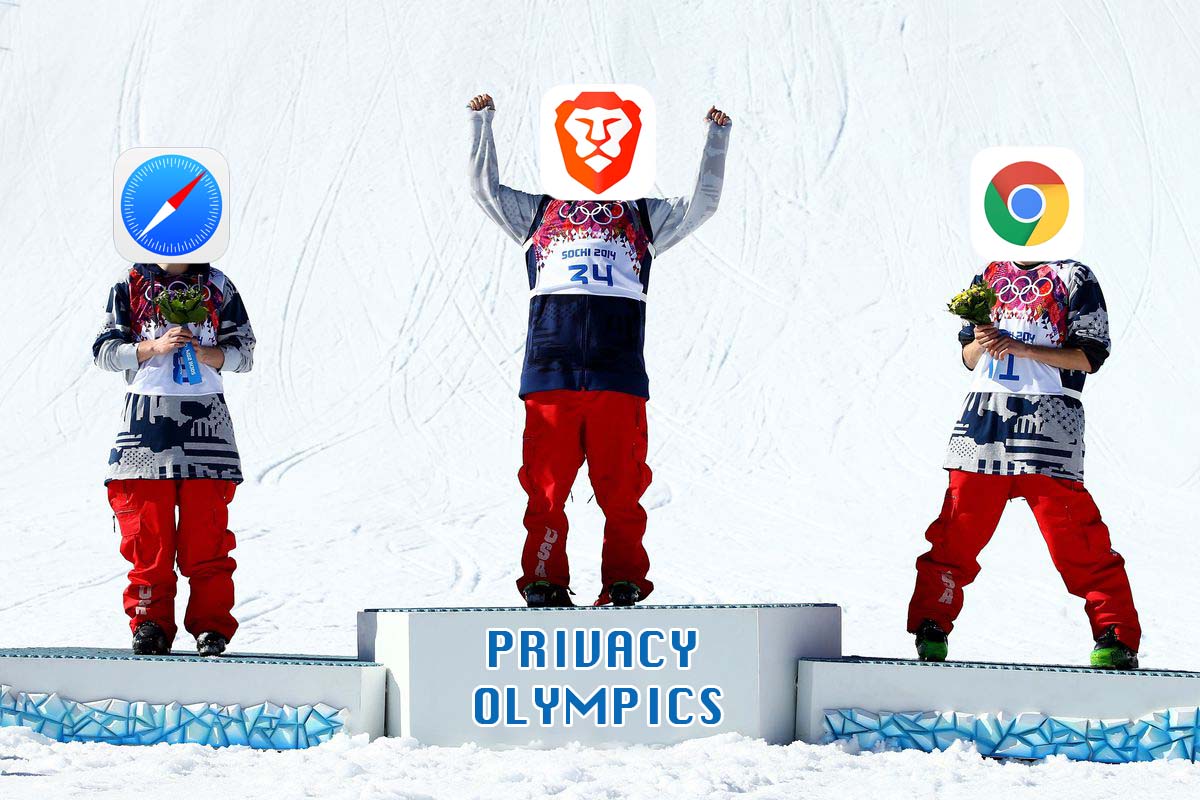 Privacy and security become increasingly important as we spend more and more time and money online.
In a research paper covered by tech outlets like Ars Technica and ZDNet, a computer scientist at Trinity College Dublin named Doug Leith ranked web browsers in order of privacy. Emphasis mine:
We find that the browsers split into three distinct groups from this privacy perspective. In the first (most private) group lies Brave, in the second Chrome, Firefox and Safari and in the third (least private) group lie Edge and Yandex.
Brave is the only browser which made the top group.
Familiar tendencies, smarter habits
Look, I get it: switching internet browsers is basically as complicated as getting an entirely new computer. It takes time and a touch of patience to properly set things up, but once you do, Brave makes surfing the web exciting again.
Brave is built on the same open source Chromium engine that powers Google Chrome, so it's immediately familiar to use. If you've ever used Chrome on your computer, Brave will just feel right in the same way. This also means that importing data like bookmarks and history from Chrome was surprisingly simple.
The UI in Brave is a bit more compact, but I like it. Notably, all of Chrome's more elaborate features work the same in Brave; keyboard shortcuts like CMD-Shift-T to open recently closed tabs and 'Warn before Quit' on CMD-Q are all the same. Even Chrome extensions, including my critical set of Notion, Instapaper, and 1Password, all work exactly like they do in Chrome.
Turns out switching to Brave was easier than I thought. Since I have an initial of familiarity, learning to use Brave is exciting.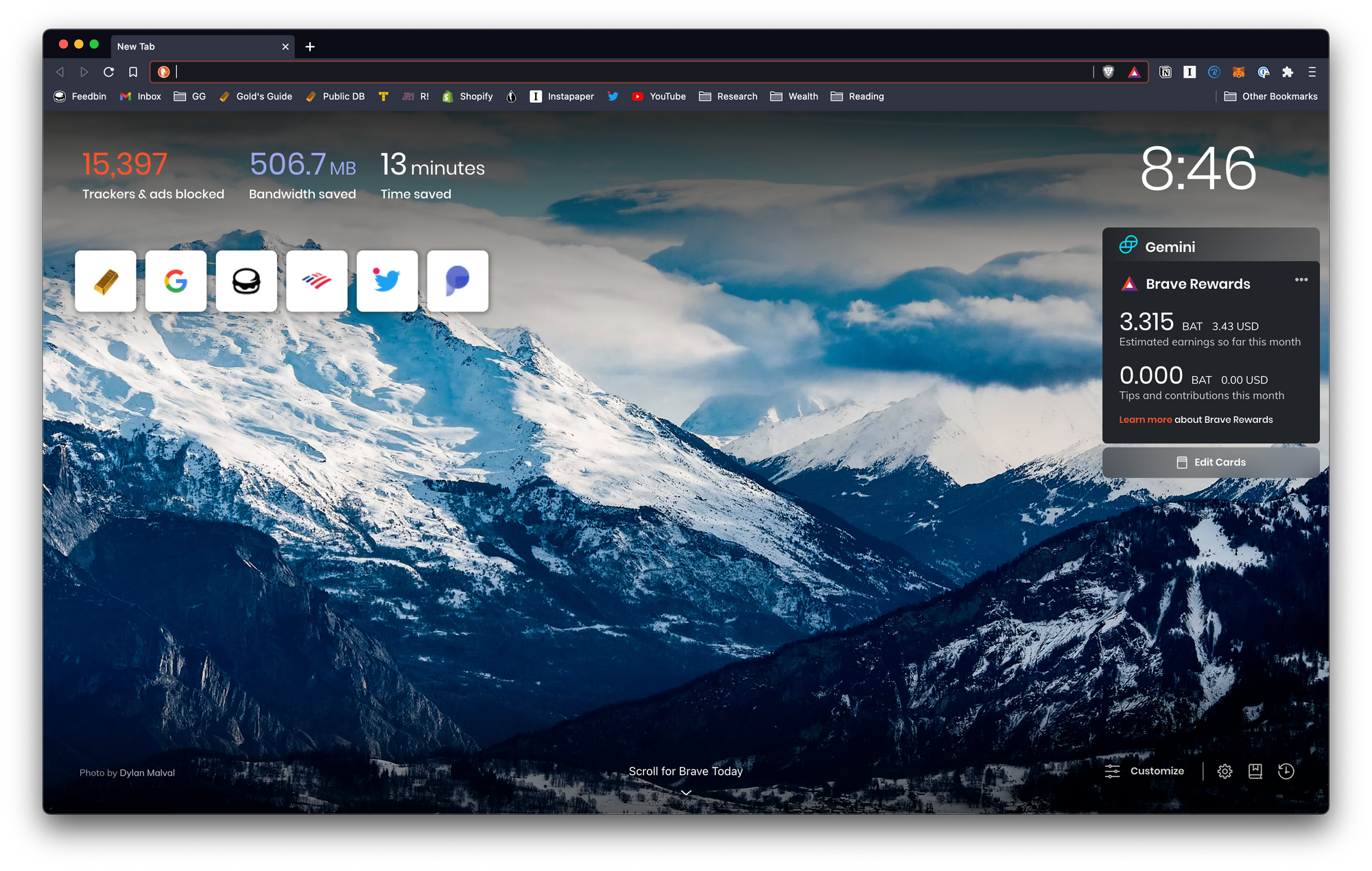 That's good, because this is a web browser that can get elaborate, bordering on complicated, if you want to make it.
Chrome can has complicated features too, but Brave starts to separate itself with a built-in VPN (available for a monthly fee, as is standard for VPNs) and a super-private TOR browser, if you really need to use that kind of thing. If that weren't enough, there's a built-in torrent client! Chrome could never. I have a huge soft spot for torrents, even though they have a bad rap because of pirating. From where I see it, peer-to-peer tech like torrents is the ancestor to blockchain and crypto.
Even though there's only a small number of people who use Brave compared to Chrome and Safari, Brave is already setting up what's next for the online advertising industry.
Brave will pay you real cryptocurrency for viewing ads

Seriously: Brave will pay you 70% of the revenue they make from advertisements that you see in Brave; they take a 30% cut. Brave ads don't track you and let you control the options: you can of course, opt-out completely, or you dial-up the ads to get paid more.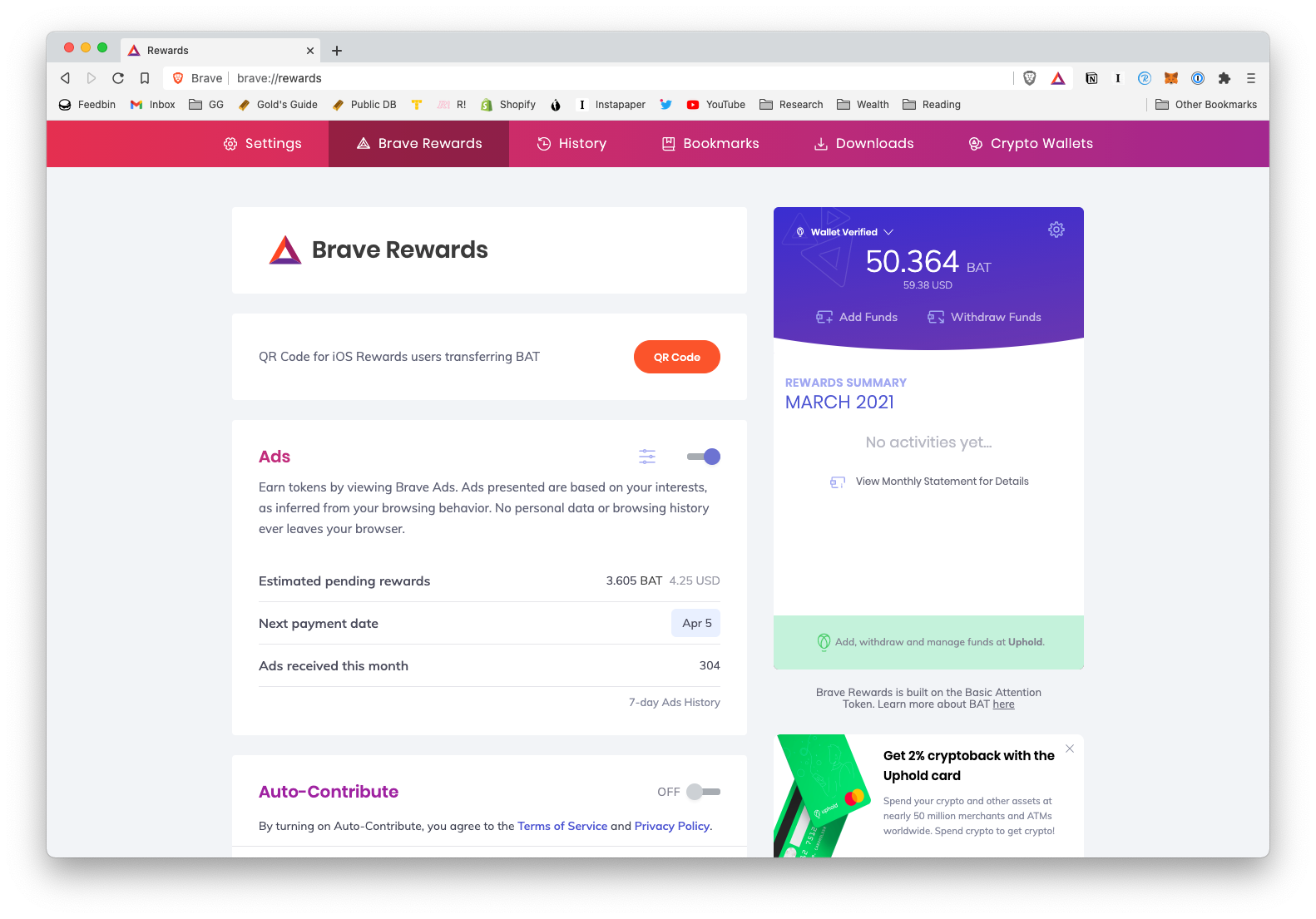 As of now, Brave only supports one crypto-wallet: a company I hadn't heard of before called Uphold. I wish I could connect to a different crypto wallet, because who wants to create yet another log-in for cryptocurrency? Brave is working on this: soon, the browser will have its own built-in cryptocurrency wallet. This will be a game-changer.
In the meantime, it all works and I trust it, but again, I'd be lying if I said the process of setting up and verifying another crypto wallet wasn't a huge pain. Support for payouts to Gemini wallets are apparently coming really soon, which will make this way more worth it.
Might as well
Considering how good the regular ad blocker is on Brave (it's the best YouTube ad blocker I've ever used, and I've tried a lot of YouTube ad-blockers), I'm glad I switched to Brave. It's going to take some time to build up enough tokens to make a significant enough amount to withdraw, but I'm not really in it for the short-term — this is about saving time in the long-term. In the week or two I've been using Brave, I've earned 3.6 BAT after seeing 300 ads across my laptop and iPhone.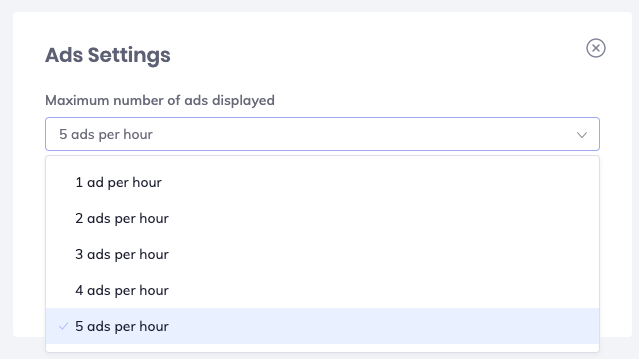 Basic Attention Token
The catch is that you get paid in Basic Attention Token for viewing Brave ads, not US dollars: but if you're even a small a fan of cryptocurrency, you'll love BAT. The price has been making moves, too... here's the price chart of BAT over the last month: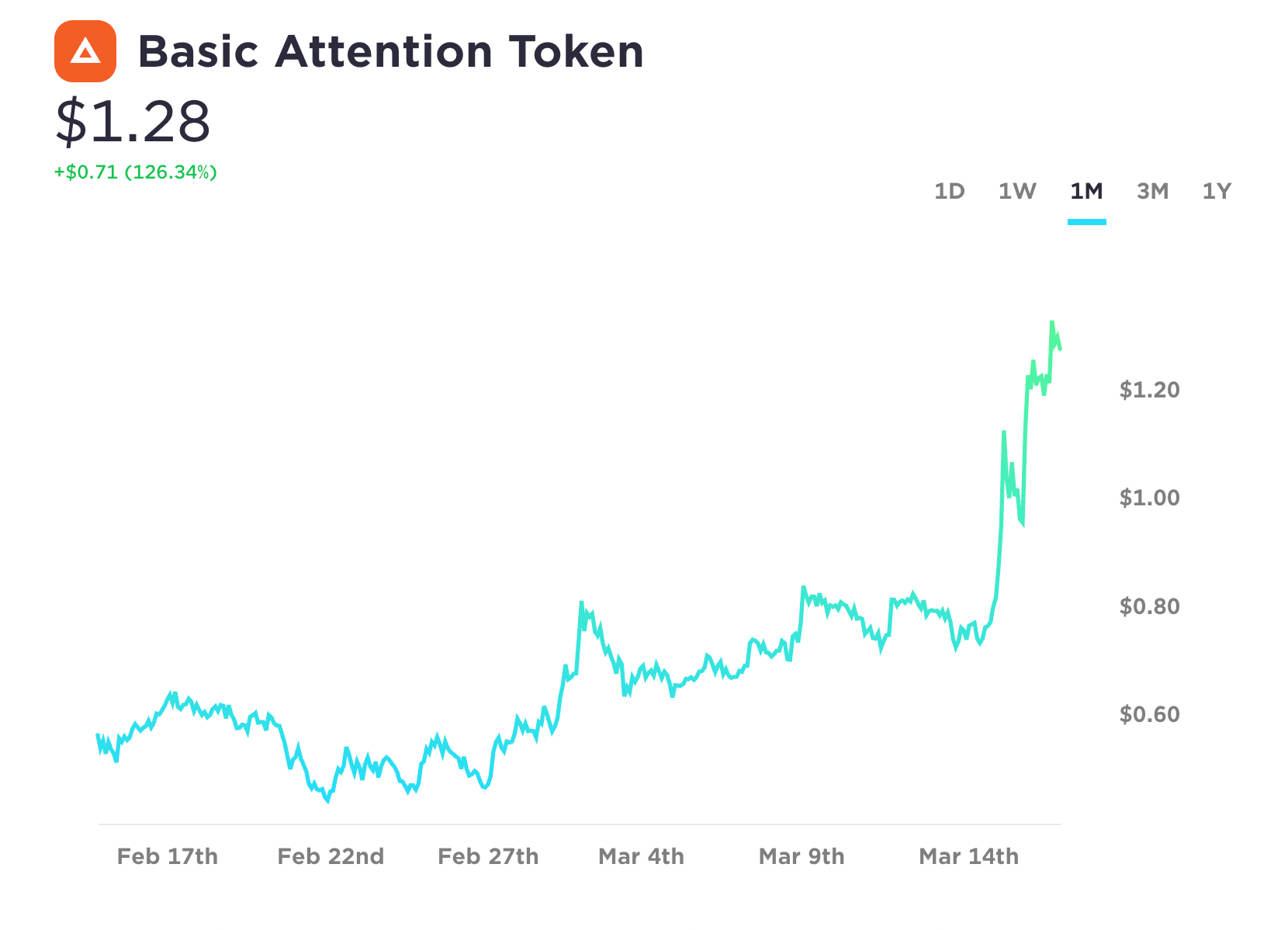 Basic Attention Token is already one of the most utilized crypto tokens out there — you can actually donate it directly to creators on platforms like Twitter, YT, Twitch, and of course, on websites like this one. Brave says there are already over 4.3M people making BAT transactions each month, and there are 1M verified publishers accepting BAT tips.
Brave is what's good.
---
Disclaimer: I own some BAT and will continue to invest in the platform because I personally believe in it — so I'm stoked that the price is spiking as of this writing. Please note that this article isn't financial or investment advice. I'm not a stock broker, lawyer, or therapist; these are just my opinions, man.
If you're using Brave, have some BAT to spare, and are so inclined, you can directly support Gold's Guide — a verified Brave publisher — by sending a BAT tip directly on this website.