NetNewsWire is what's good.
First released in 2002 (you read that right), NetNewsWire is a classic Mac app built and maintained by Brent Simmons.
NetNewsWire has a long history, but the app itself couldn't be more simple.
This is the app that lets me drink straight from the Internet firehose, and I couldn't live without it.
NetNewsWire does one thing incredibly reliably: it shows me articles from the sources I actually want to read.
Simply, reading
Plain and simple, NetNewsWire is nice to use.
On the left are a bunch of sources: websites that post articles you want to keep up with. NetNewsWire collects all of those sources into one app into an aggregated feed — a big mashup of all those different sources, with the most recent post on the top.
The app's design hasn't fundamentally changed since version 1. NetNewsWire feels familiar and, over time, has evolved its own distinct sense of style.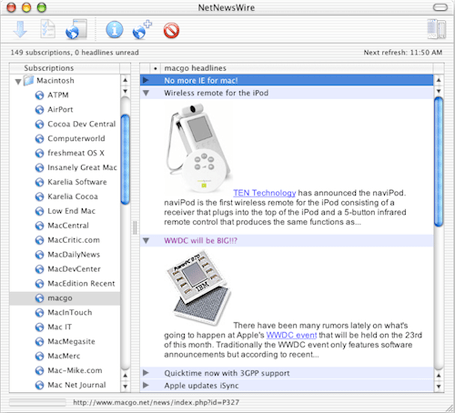 From Shawn Blanc's review of NetNewsWire 3.1, back in 2007:
At its initial launch, NNW was already in a class of its own. Brent patterned the traditional 3 panel layout after common email layouts, like Mailsmith, Outlook and Apple Mail. The general look and feel of NetNewsWire has been consistent ever since version 1, but it has certainly received a good spit and polish over the years.
Certainly has. Version 6.0 of NetNewsWire was released in March of 2021. In theory, this is a big update with a bunch of new features, including native support for Apple silicon and built-in iCloud sync across all your devices. In practice, version 6.0 looks and functions exactly the same as version 5.0.
The iOS app is just as simple. There's an outline of sources, then you click in to see each article, and then pick what to read. That's it.
What it's like to use NetNewsWire
There are some helpful "Smart Filters" at the top (Today, Unread, Starred), and you can make folders to group the different sources, aka feeds, that you follow. But that's really it: you pick the sources and NetNewsWire rolls your newsfeed in reverse-chronological order.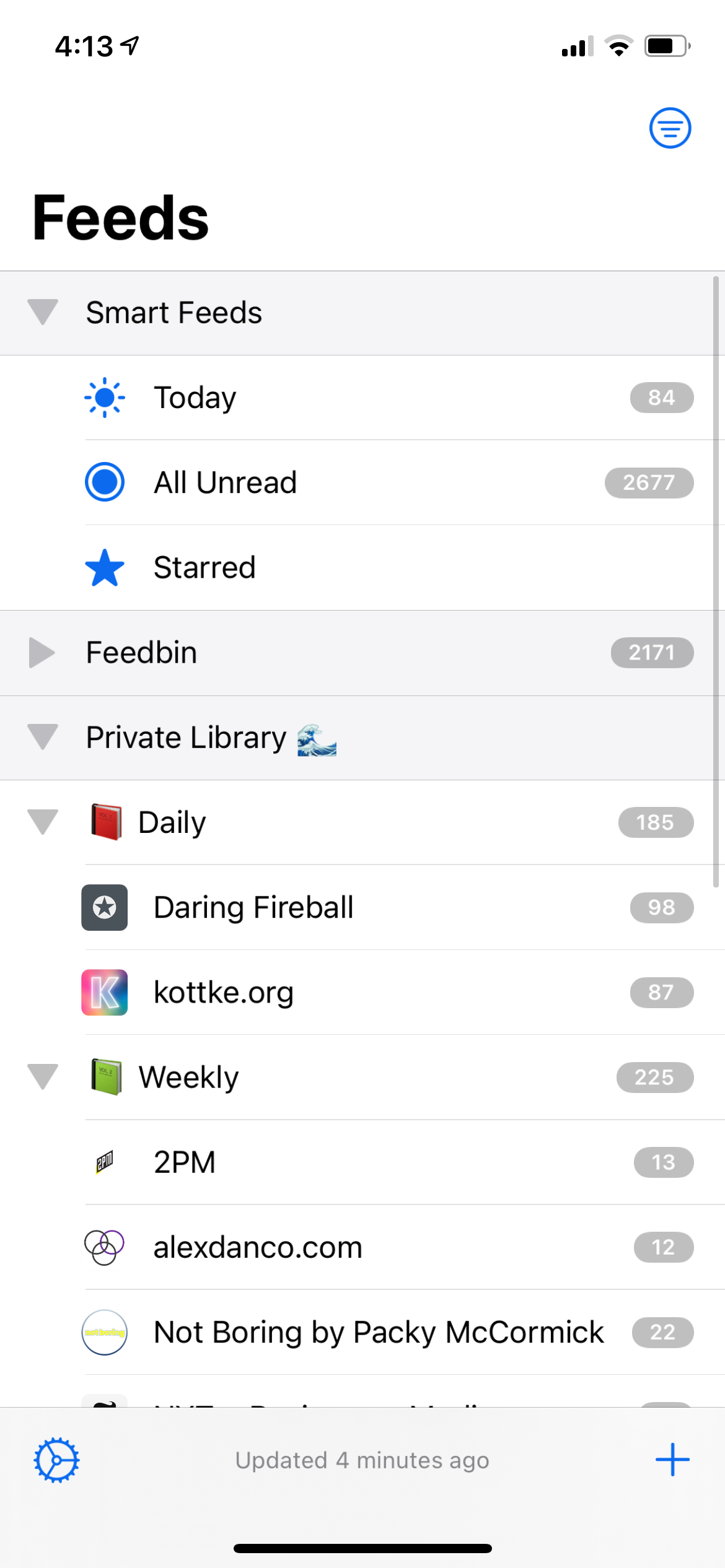 Upon opening the app on iPhone, Mac, or iPad for the first time, you're presented with this list of websites: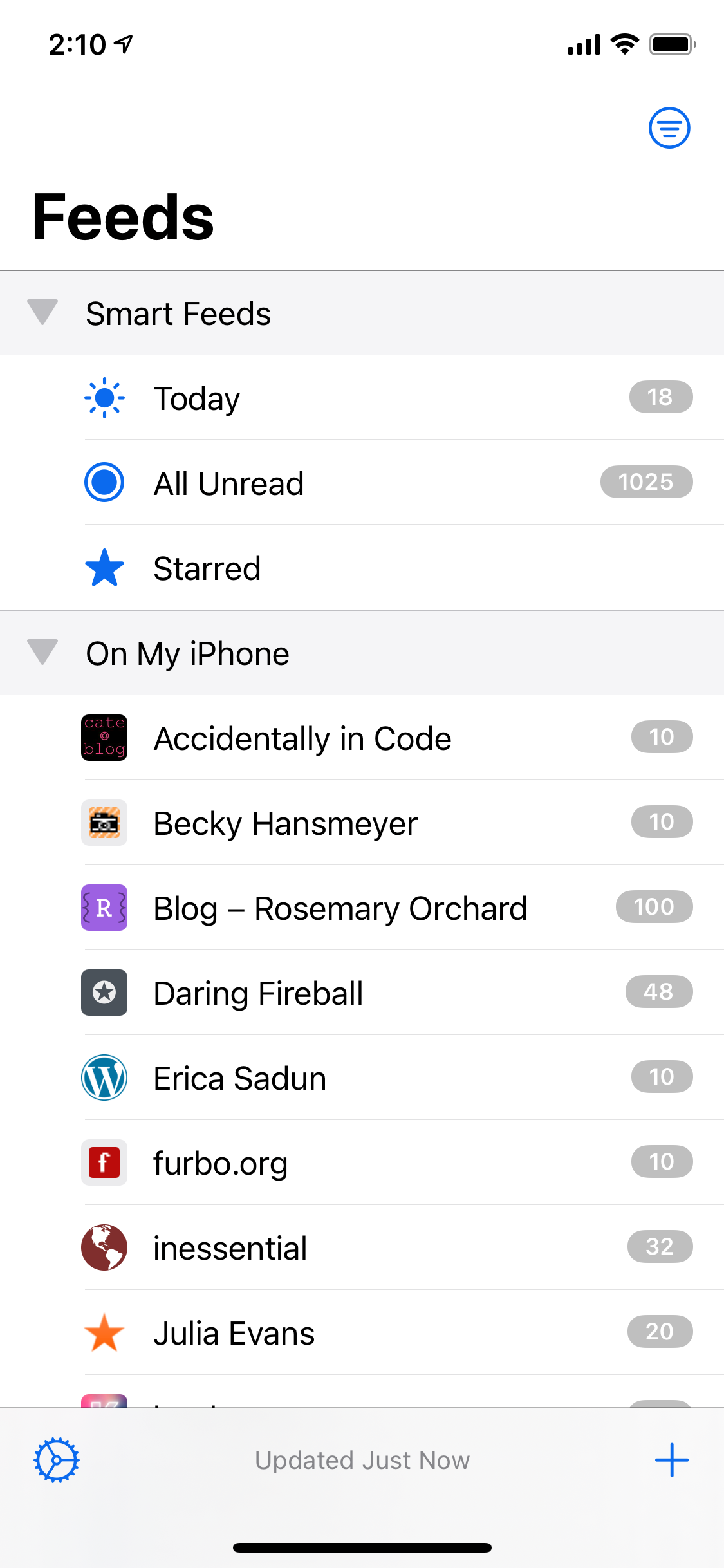 Question: What is this stuff? Who are these people? Where did this come from?
Answer: NetNewsWire automatically includes these sources so you can get right to reading. A lot of these publications are great sources if you're into tech, —specifically the Apple, Mac, and iPhone communities.  
If you're already using Feedbin to roll your own custom newsfeed, you can pop right into NetNewsWire's preferences and deactivate the "On my iPhone" (or Mac, etc) account, click Add an Account, and login with your Feedbin credentials. Your feeds will automatically roll in.
Of course, you can also start from scratch and hand-curate your own newsfeed. It's not easy, but it's worth it.
---
Further reading about NetNewsWire and RSS