The build-up to Kanye West's latest album has been a dramatic, cinematic, and elaborate affair which reminds me more of a movie release than an album release.
It's literally been over a year since Kanye was first supposed to drop Donda: the original release date was set for 24 July, 2020.
Then the album was delayed until July 2021, then pushed back to early August, then mid-August, and then late-August. Each time, Kanye held massive listening massive listening parties and streamed them live on Apple Music.
Instead of actually performing songs from the album, Kanye played the album over the stadium speakers, like the final form of the legendary MSG listening party Kanye hosted for the launch of The Life of Pablo back in 2016.
In the final live-stream he recreated his childhood home and had an entire procession march around it.
When the album was finally released on 27 August, 2021, Kanye had but one thing to say.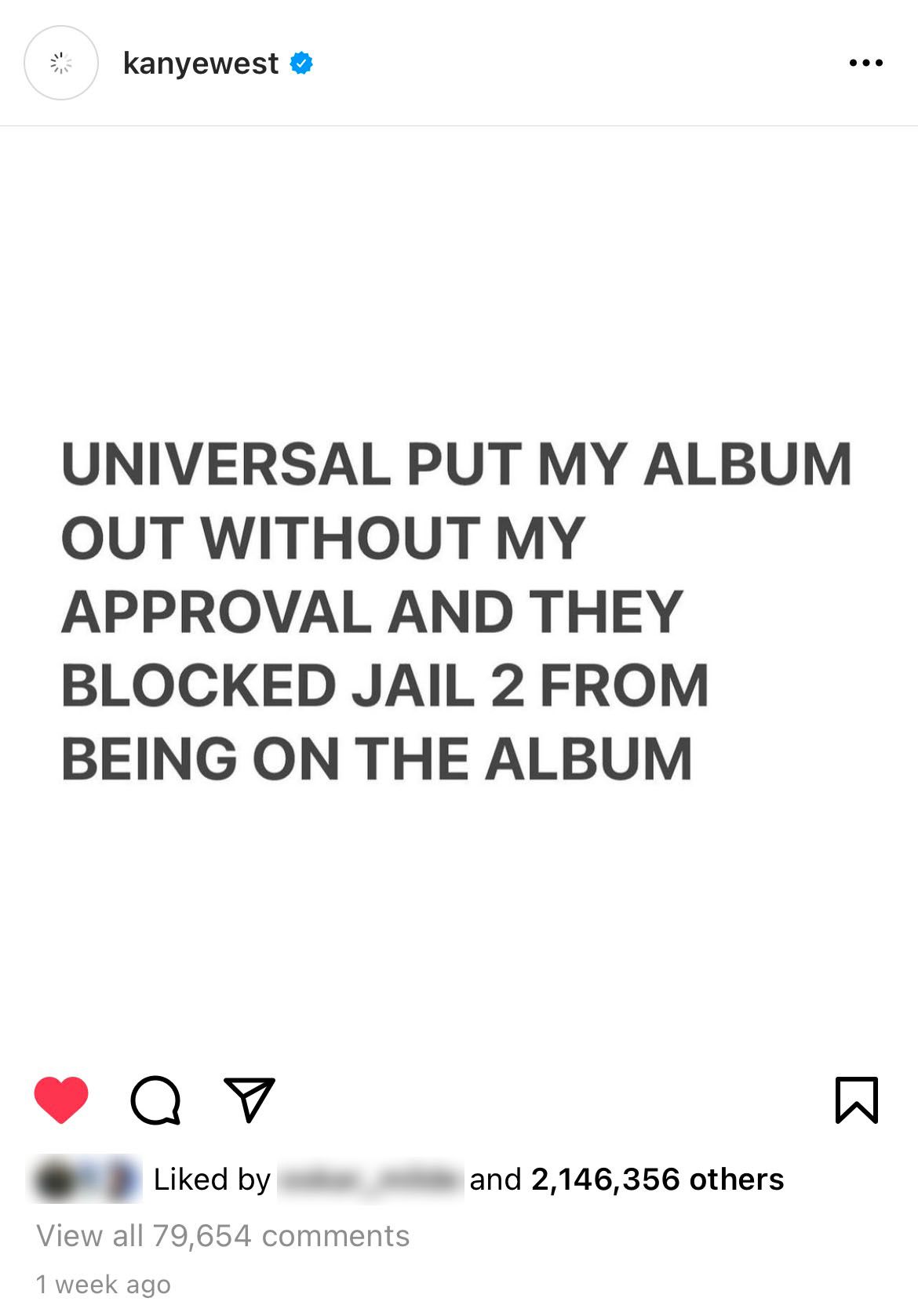 It's worth remembering that back in September 2020, Kanye tweeted out photos of his contracts with the major record label Universal Music Group in an effort to get ownership of his masters.
This has been an ongoing issue for Kanye. According to Complex, the song wasn't part of the original album release when it dropped around 8am on the 29th.
The Life of Kanye
The last universally acclaimed Kanye album was 2016's The Life of Pablo, which shares more than just listening parties with Donda. TLoP was notorious for its "unfinished" and "evolving" state; Ye continued to update songs on streaming services for weeks after the album's original release. Fittingly, The Life of Pablo was the first album to go platinum entirely from streams.
The drama surrounding the release of Donda seems only fitting for Kanye West in 2021.
Speaking of drama
During one of the weekends when Donda was supposed to be released but, uh, wasn't, Kanye did something odd — even by his standards — and posted a screenshot that showed the location of Drake's Toronto home.
I've heard people say that the location of Drake's home isn't exactly a secret in Toronto (apparently it's a bit of a landmark). Still, though, it was a bizarre move. Drake and Kanye are clearly competing for top album right now. On Instagram, stand-up comedian Andrew Schulz quipped:
"Kanye is better at making music. Drake is better at rapping.

Their strengths are each other's weakness.

It's a shame they won't make music together Bc it would be the greatest album ever.
More to come on Certified Lover Boy. Until then, here's a review of my favorite tracks on Donda.
Highlight tracks
"Jail" is an anthem which has me reluctantly thinking "I'm going to go to jail tonight" every time Kanye asks. It's a good thing that the Jay-Z verse is still in. Highlight lyric from Jay: God in my cells / that's my celly.
"Off the Grid" is absolutely stuck in my head. The intro comes in super hard and I dig the repetition. The switchup before the Playboi Carti verse is heat, and when the song switches again into Fivio Foreign's extended verse I can't help but bounce.
"Hurricane", featuring The Weeknd, was a pleasant surprise, since I didn't expect to hear Abel on Kanye's record. This song is heavenly and I feel some heavy influence from the Sunday Service and Jesus is King era. I still can't get Kanye's "mm-m-mmmm-mmm-mmm" out of my head.
"Praise God" with Travis Scott has that creepy, crawly feeling that makes Travis so unique.
"Tell the Vision" reminds me of "Panda", the viral Desiigner song from 2016. Kanye took the best verse from the song and put it into "Pt. 2" on his album The Life of Pablo. The Pop Smoke dominated the summer — anecdotally, I've heard more of Pop's music around Brooklyn this summer than anyone else. This is basically the same song as the third track of Pop Smoke's pothumous album Faith, except it's just Pop's verse and the production is a bit more sparse and minimal.
"Remote Control" feels like classic irreverent Kanye, making fun of the entire world. The song opens up with Ye crooning, "Please don't ask again, who's up in the van? / They my only fans." Another track with a sticky chorus I can't get out of my head.
"Moon" reminds me of "Wolves", one of the tracks Ye continually tweaked after The Life of Pablo was released.
"Heaven and Hell" is an anthem. My favorite track on the entire album. When the drop comes in, man. Come on!
"No Child Left Behind" has that same gospel feel that Kanye was working on with Jesus is King. There's an ethereal, spacey feel to the track.
My favorite tracks:
Off the Grid, Hurricanes, Heaven and Hell, No Child Left Behind.
Musical movie
Donda is a work of art. Kanye absolutely delivered. The question is if the songs on this album resonate culturally as much as Kanye hopes they will. When I listen back to The Life of Pablo or Yeezus or My Beautiful Dark Twisted Fantasy (let alone Ye's earlier work), I feel a sense of nostalgia for the feeling of wonder I experienced when first hearing those albums.
Time will tell if I feel the same way about Donda.
---
Listen to Donda on Apple Music or Spotify.